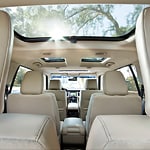 For drivers with varied interests, flexibility is key. If you like to shift between adventures at a moment's notice, we at Bob Thomas Ford Lincoln North think you might be interested in the Ford Flex. As its name suggests, this popular three-row midsize SUV adapts quickly, so you can get on the road faster.
It all starts with the interior — with three rows of seats, the Flex lets you take friends along for the fun. Or, fold down the second and third rows and load up your bikes or camping gear; with the seats folded flat, you get a whopping 83.2 cubic feet of cargo space. Plus, since both rows fold in two separate sections, you can find the perfect people/equipment configuration.
When you're ready to get on the road, don't worry about fishing around for your keys. As long as they're on your person, the Flex unlocks and starts automatically using the push button. To try it out, come and test-drive the Flex at our Fort Wayne location.