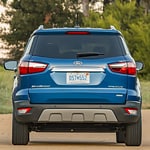 When you're shopping for a new vehicle, how much do its amenities and luxury features matter to you? Here at Bob Thomas Ford Lincoln North, we think that inclusion (or lack thereof) of extra features can make or break a vehicle's reputation, especially when it comes to compact crossover vehicles. The Ford EcoSport is one vehicle that definitely supports us, since it's chock-full of features that are sure to wow you.
The EcoSport comes packing an intricately designed sound system which sports ten speakers and a unique overall sound quality. Music and podcasts will be enjoyed much more readily with this speaker system. Another feature we love is the inclusion of ActiveX seating. These seats include cloth inserts in order to help you and you passengers fully enjoy your driving experiences.
To test drive the Ford EcoSport, all you need to do is come by our location here in Fort Wayne whenever you're available!