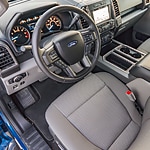 If you want to know what makes the Ford F-150 such a popular full-size truck, then you will want to look at the truck's many technology features. These features are designed to make the driver safer and better informed while on the road. Here are two top features of this year's F-150.
The F-150 offers Ford's Co-Pilot 360 system. This suite of features gives you top driver-assist equipment such as automatic emergency braking and a rearview camera. Overall, the Co-PIlot 360 system is one of the most complete sets of driver-assist features found on any truck. To give you enhanced driver confidence, the F-150 also offers a unique 360-degree view camera system with a split-screen view. This system allows you to see everything around the F-150 truck from two angles at the same time.
Get into the F-150 today and see all of its tech in action. Take a test drive at Bob Thomas Ford Lincoln North today.